AI Workouts
Step-by-Step Guidance - at Home or at the Gym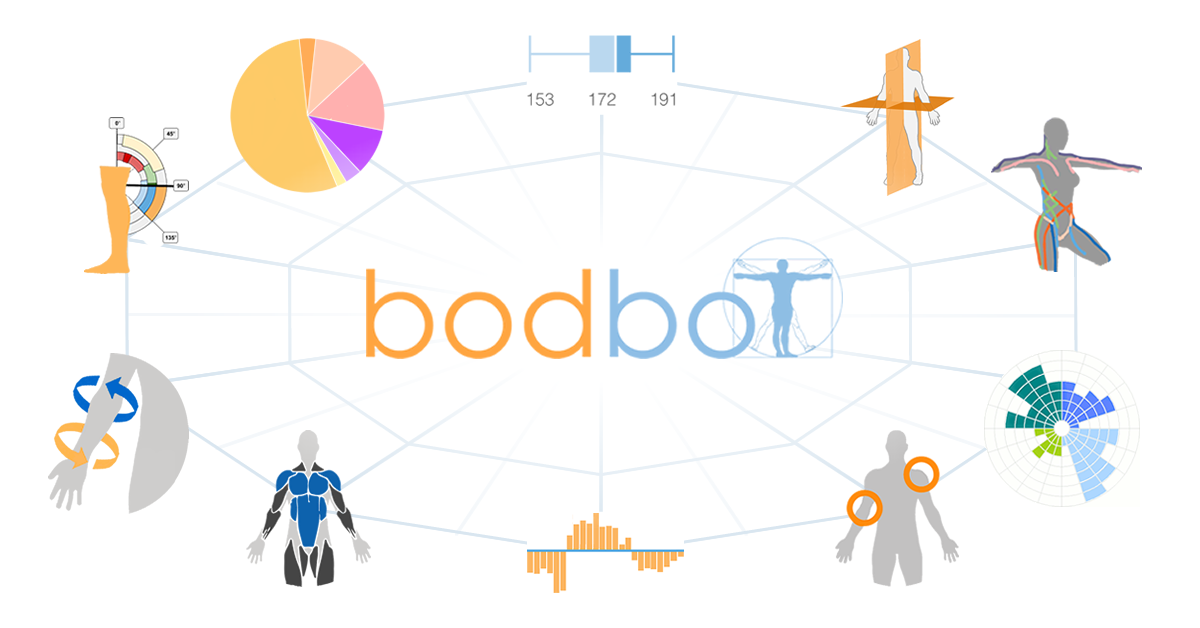 Your Own Digital Personal Trainer
Get results with workouts adapted to you, your goals, and your progress.
Adaptation with Every Rep
There are no cookie-cutter plans here. Every workout, exercise, set and rep is tailored to your goals, your body and your progress. From the macro-level of lifestyle and biometrics to the micro-level of today's movement patterns and lifting response - BodBot lives and breathes with you.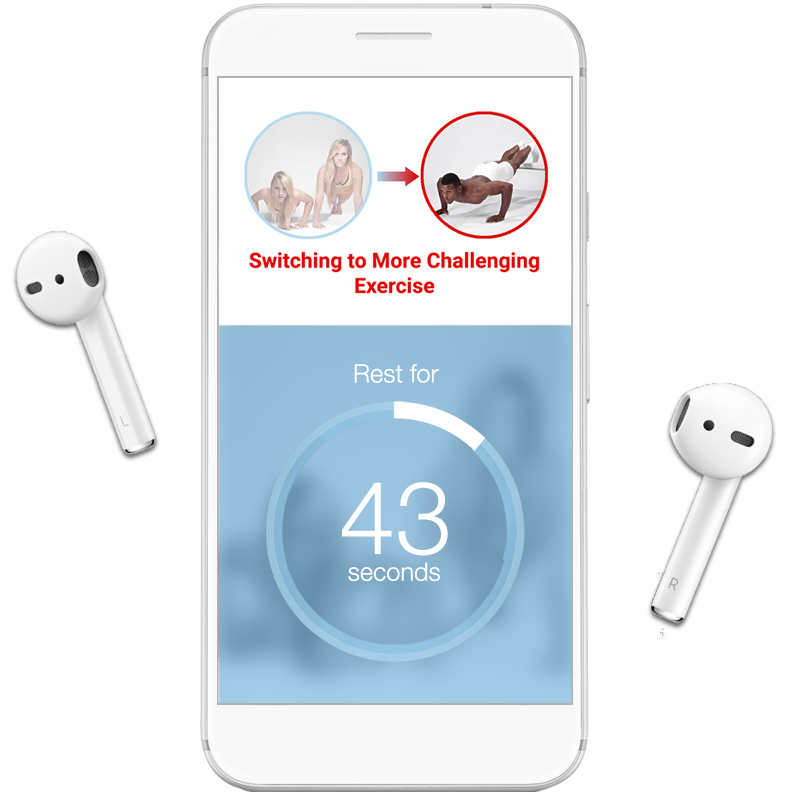 Data-Driven Fitness
Gain deeper insights into your goals with powerful tracking and data visualization tools. Get a wide-angle lens on your fitness, nutrition and body, and understand in more detail how BodBot is helping to improve your overall fitness. See your progress in new ways and learn how your lifestyle is impacting results.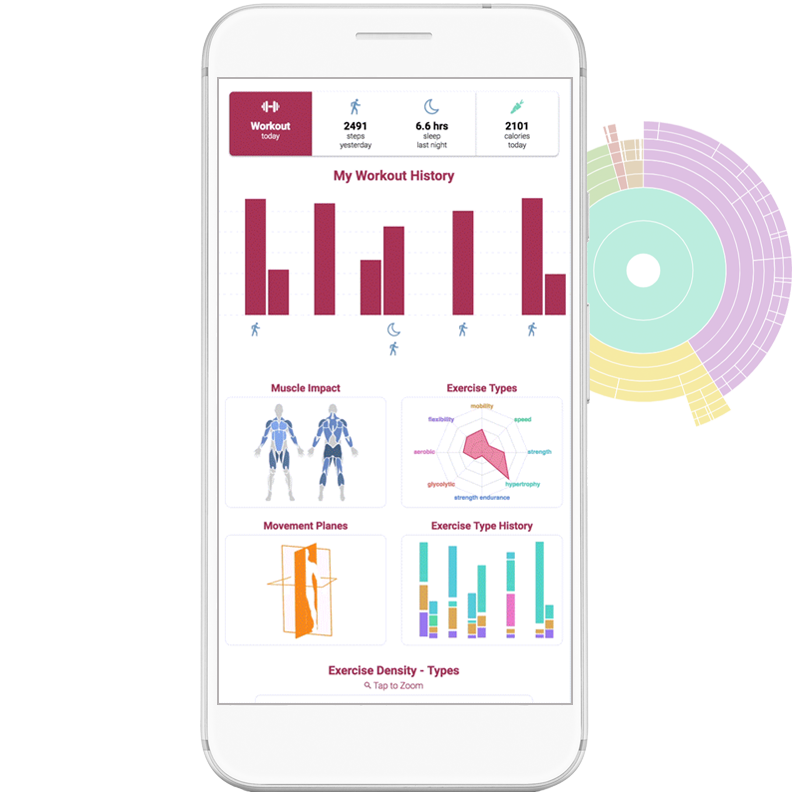 Build Muscle with Precision
Gain muscle and increase strength. Looking to develop the biceps or the glutes? Want to do lower body on Mondays and upper body on Wednesdays? Or focus on specific muscles on specific days? BodBot can handle it all. Your workouts will reflect your needs, and no muscle group will be left behind.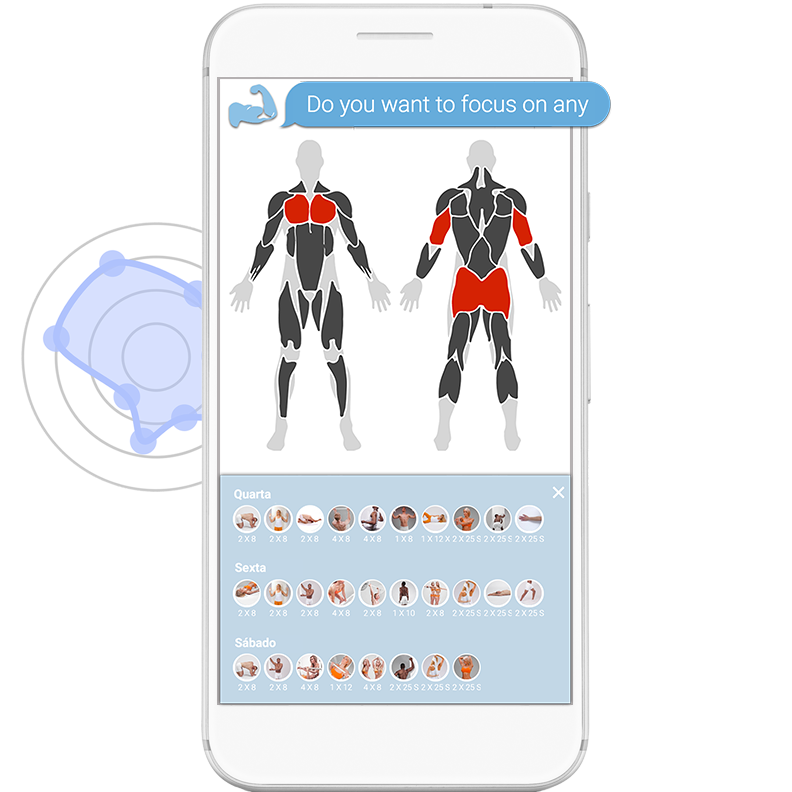 Achieve Your Goals
We'll help you not only analyze your data, but make sense of it – integrating biometrics from your wearable devices seamlessly with and into your workouts. Your fitness is not a closed system, to the extent we can know more about key state variables like movement, sleep and heart rate, we can make your recommendations even better. Wearable devices help us do that.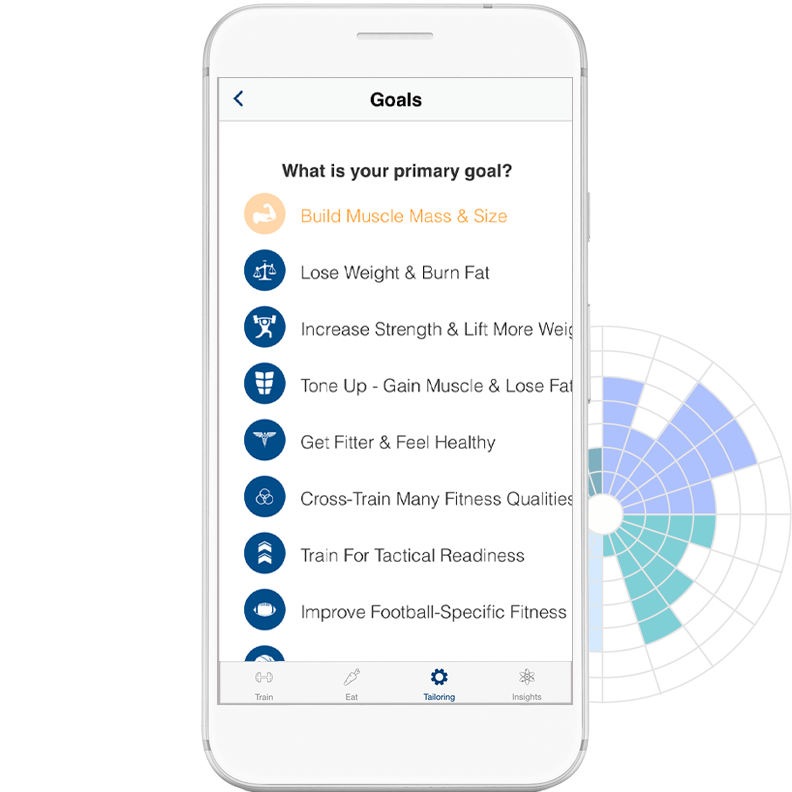 Intelligent Workout Planning
Whether you have unlimited time or just a few 20-30 minute blocks around the week, BodBot can fit your workouts into any combination. Busy weeks, but free weekends? Done. Half-hour on Monday, but an hour on Wednesday and Friday? No Problem. Miss a workout? Have a new 30 minute window? BodBot's got your back, and will handle it seamlessly.
Take Control of Your Joints
Feel great with workouts that meet you where you're at. Traditional fitness regimens can quickly become inaccessible if you have injuries or difficulties with specific body parts. With BodBot's joint controls you're able to work out while minimizing and avoiding specific joints - to continue training in some capacity after one of life's inconvenient injuries or to more easily handle pre-existing conditions.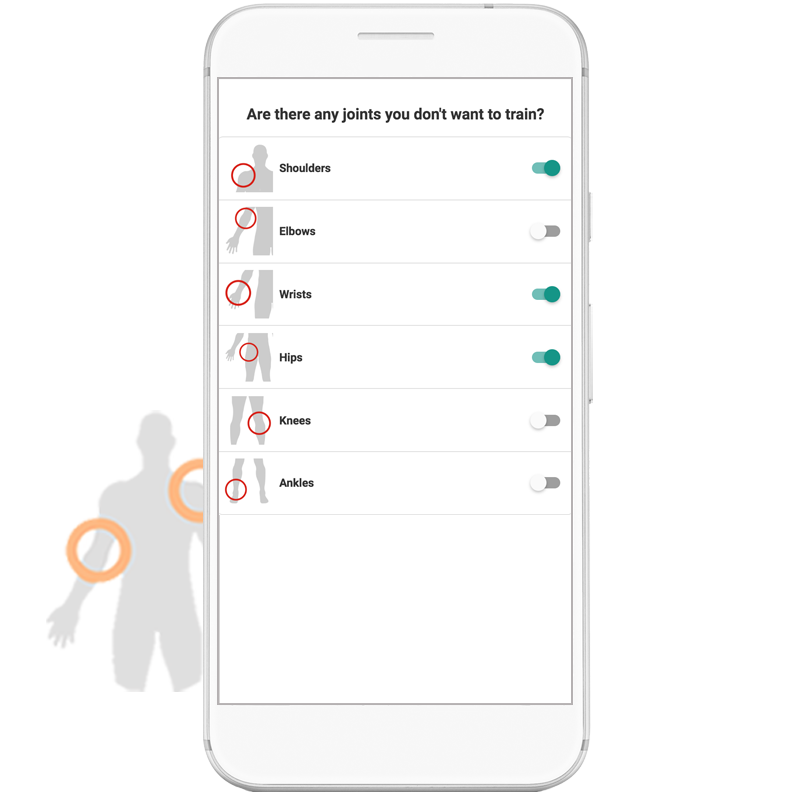 The Best AI in Fitness
Everyone has a different history: variations in posture, strength, cardiovascular fitness, range of motion, joint mobility and much more. These variations matter. Rather than overloading an immobile joint or hammering an already shortened and tight muscle, BodBot will work with you to improve performance and increase efficiency - through targeted fitness tests and objective assessments. This is modern, high quality physiology and kinesiology realized in intelligent training recommendations.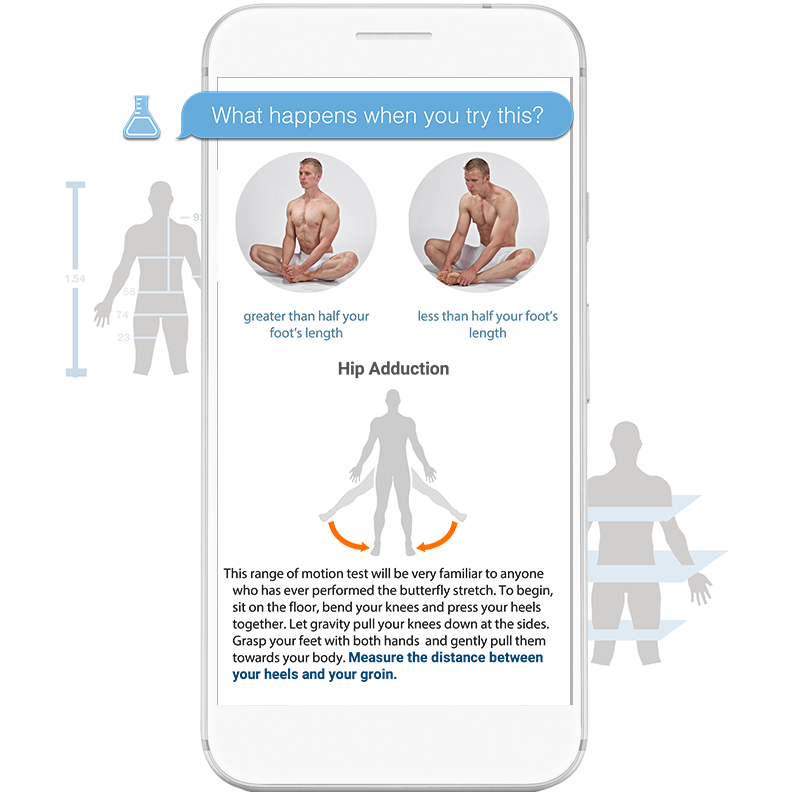 Workouts for Every Level, Absolutely Anywhere
Our giant database of deeply-profiled exercises includes a broad and diverse array of bodyweight progressions and at-home exercises, as well as a huge array of exercises for the gym and free weight equipment. With tons of exercises for every muscle group we will get you a great workout wherever you are and with whatever you have.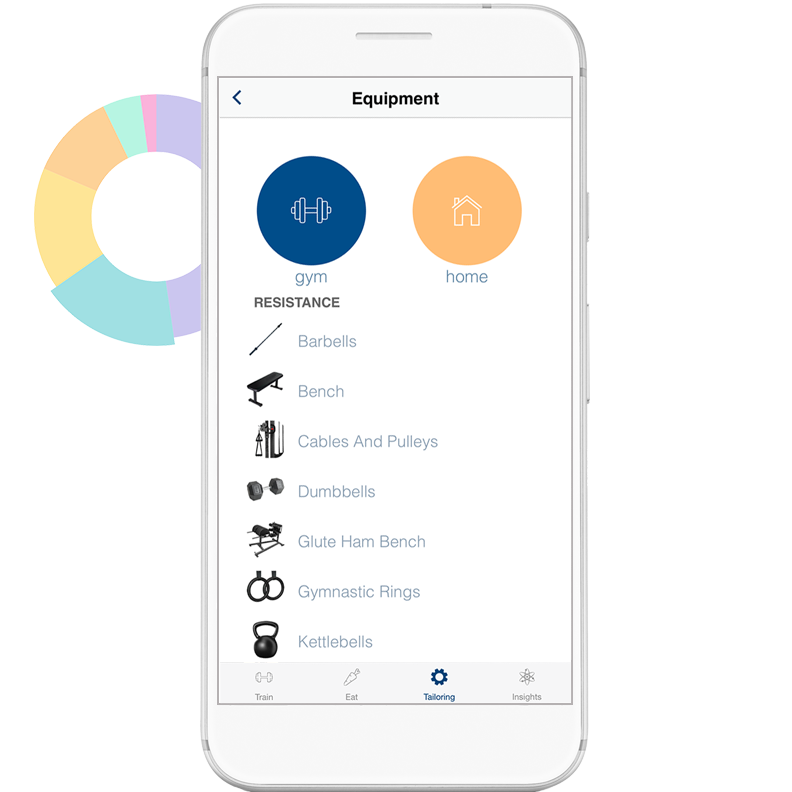 Metrics That Matter
Every adjustment and adaptation is grounded in empirical data. Learn what's happening and why, and gain new insight into your body, lifestyle and fitness. Our users consistently improve mobility, strength and performance.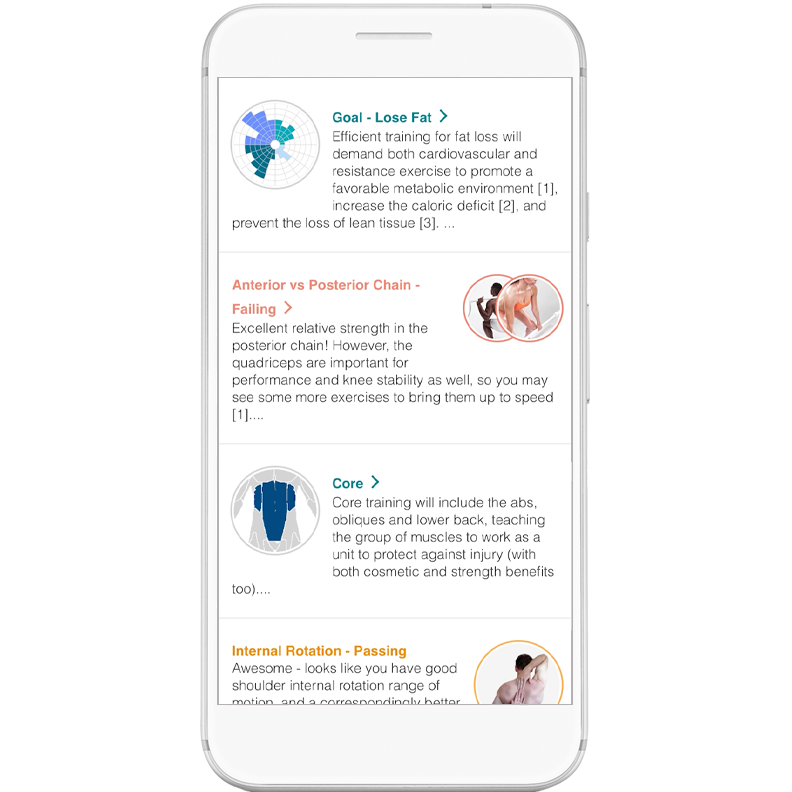 Advanced Workout Analytics
Visualize your progress, training impact and workout history with advanced exercise analysis and a professional quality charting suite. BodBot combines the insight and expertise of trainers, coaches and kinesiologists into flexible algorithms that tailor and adapt to your needs.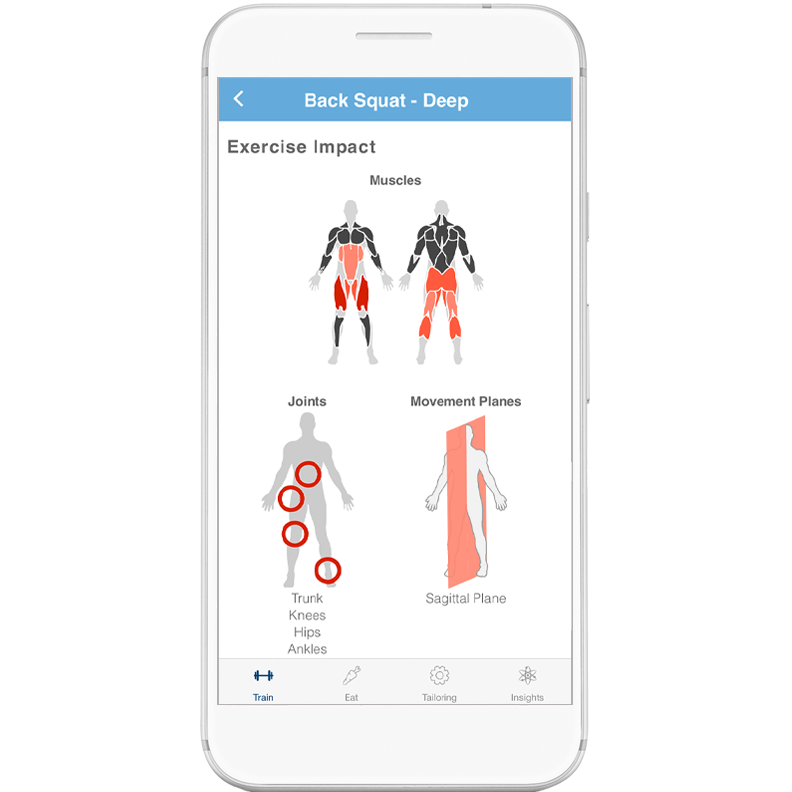 Fitness Everywhere
Web, phone, tablet and watch - give your body the best wherever you are with whatever you've got. With BodBot's top rated apps on iOS, Android and Chrome, strong integration with Apple Watch and FitBit, and an ever growing roster of wearable partners - BodBot's here for you when you need and where you need.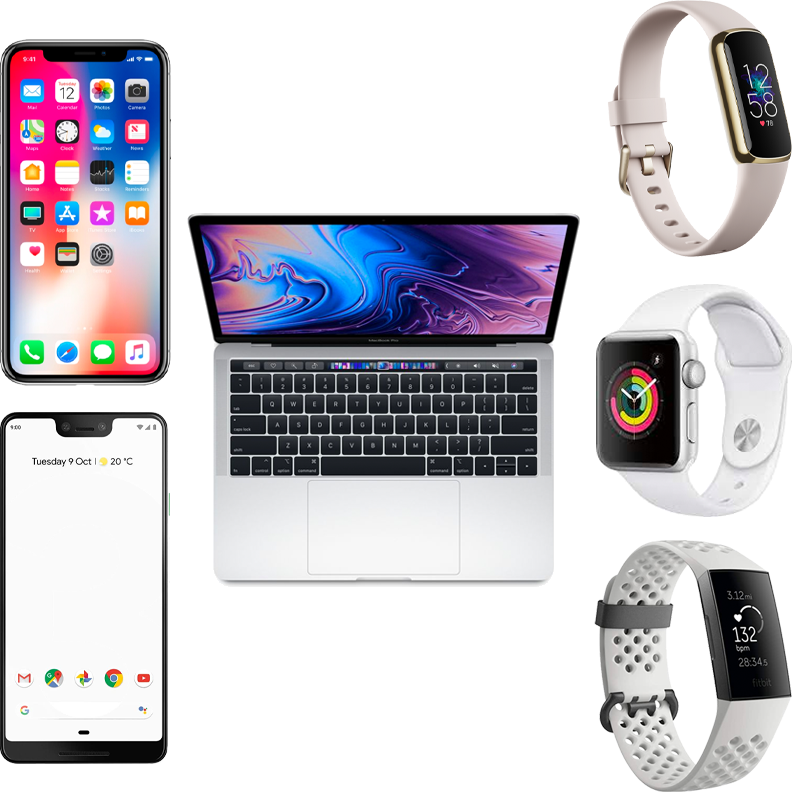 Make Every Rep Count
Individual recovery rate can vary widely, influenced by volume and quality of nutrition, sleep, activity outside of the gym, stress levels, etc. BodBot adapts your workouts based on the soreness and recovery of your muscles; it responds not only to your ability, but also your current training state. With this responsiveness, it can more effectively dial in each day's workout, increasing efficiency while reducing risk.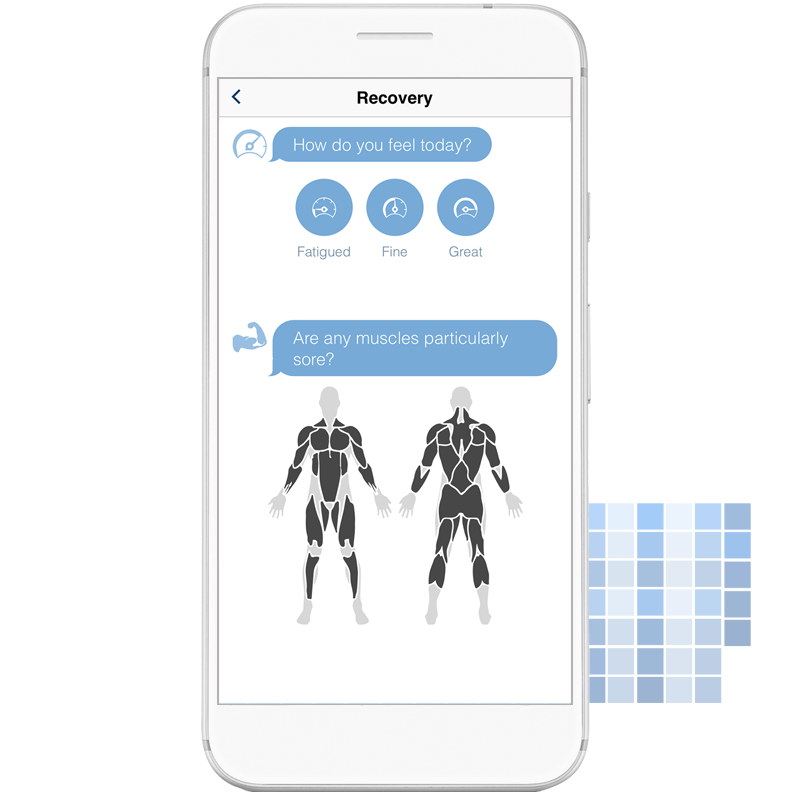 AI-Powered Nutrition
The most advanced nutrition tools on the market.
Personalized Nutrition Planning
All of your nutrition targets are tailored to your specific goals and body. The nutrition requirements of gaining muscle, improving health, or optimizing athletic performance are all very different, and BodBot will recommend both macro and micronutrient targets accordingly.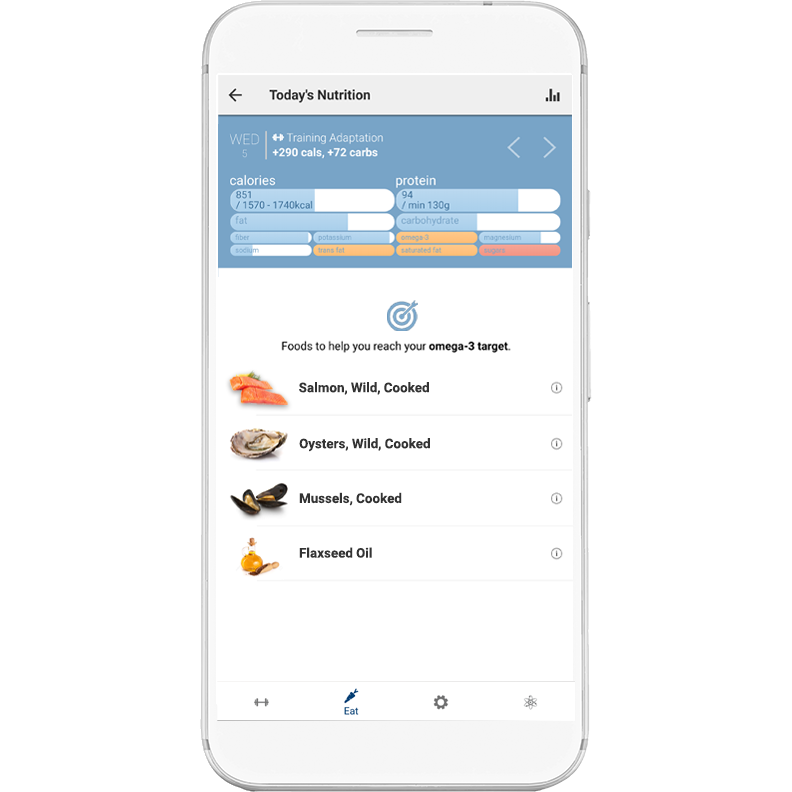 Data-Driven
Your targets update to reflect your workouts. Complete a great workout? Need to refuel for next time? We'll help you consume enough carbohydrate to replenish muscle glycogen. Missed your planned session? No problem, we'll adjust your calories and other targets as necessary.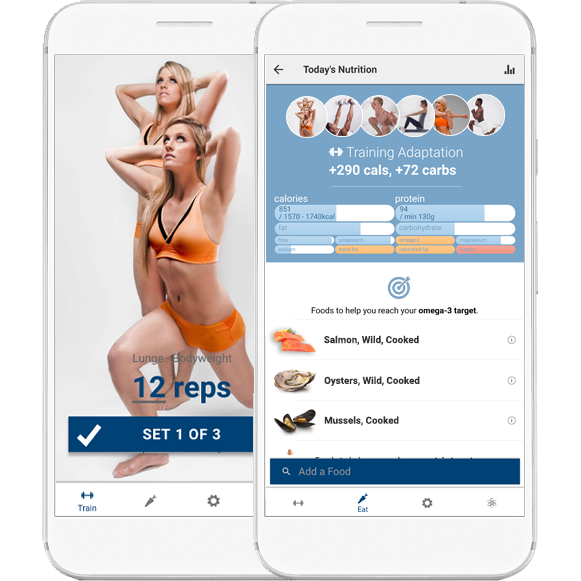 Beyond Macronutrients
Go beyond calories, macros (carbs, fat, protein), and even sugar, fiber and cholesterol with vitamins, minerals and more. Use robust nutritional profiles and analytics to gain insight and learn how to make healthier choices in the foods you eat.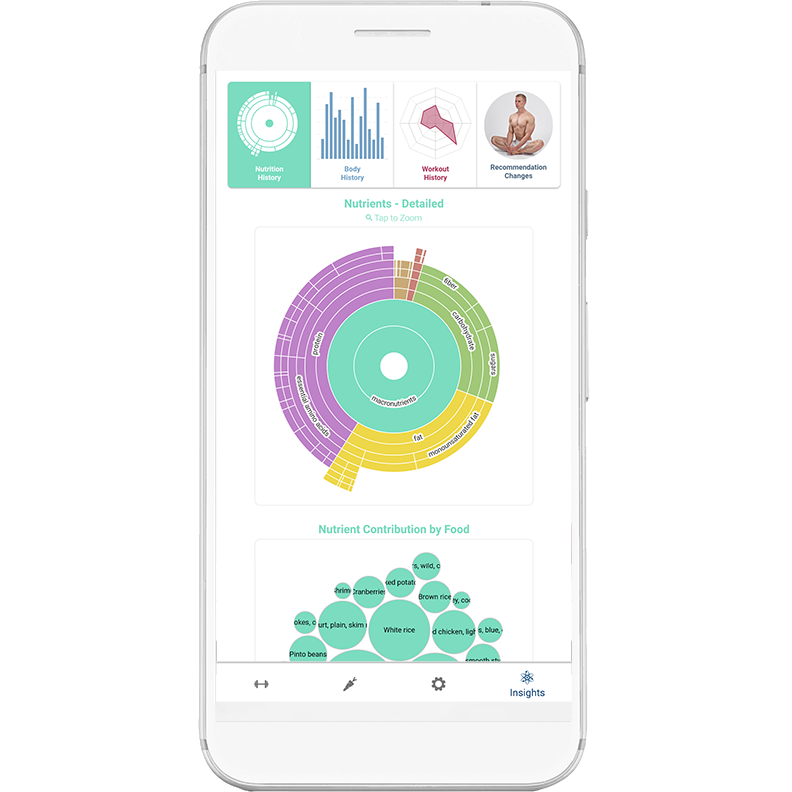 Deep Nutrition Insights
Based on your progress towards your nutrient targets, BodBot will recommend foods to help you fill deficiencies. Need to hit your protein and omega-3 fatty acid targets? Consider salmon or scallops. Looking for healthy fats and fiber? Give walnuts or almonds a look. No guesswork required, we'll surface foods and meals that best meet your needs.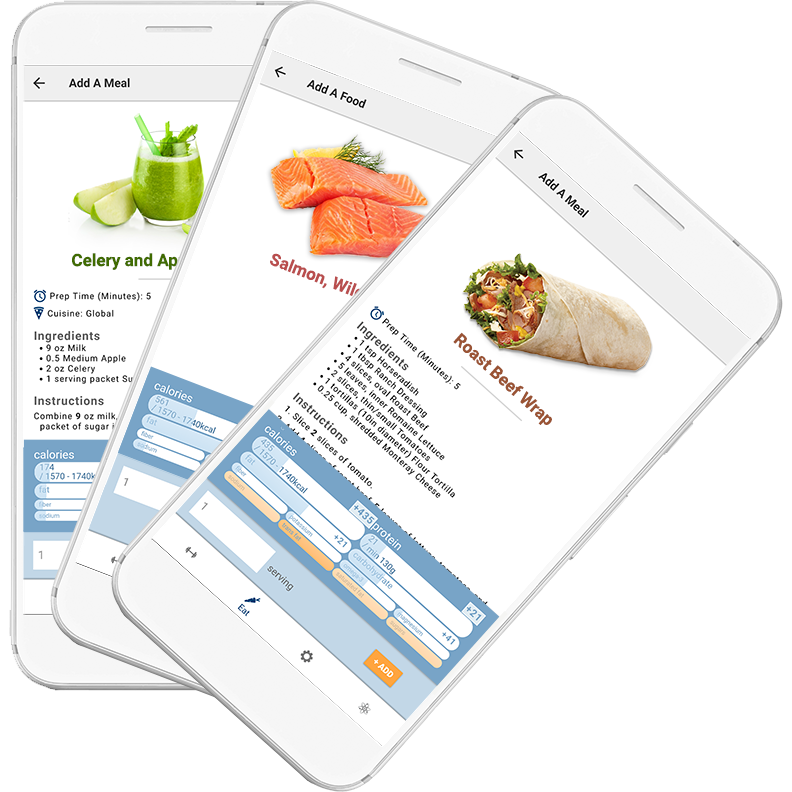 Infinitely Customizable
Customize to your heart's content and all your health and fitness needs. Create your own nutrition targets - whether calories and macros or with specific micronutrient focus - and get personalized food and meal planning to reach them.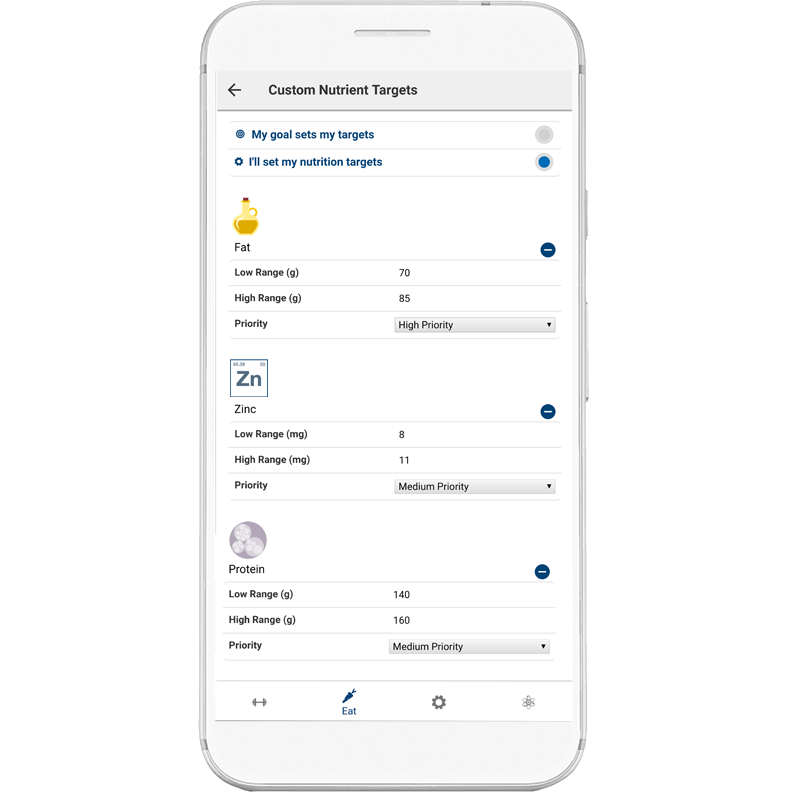 Healthy Choices Get Results
Our meal recommendation engine will suggest meals that meet your macro and micronutrient needs while matching your tastes and preferences. In the mood for Mexican food? Italian? We've got you. Need something you can cook quickly? No problem, you can filter by preparation time. Don't eat dairy? Seafood? Grains? Peanuts? For these and many more, just update your settings and the recommendations will adjust accordingly. Eating healthy can, and should, still be eating happily.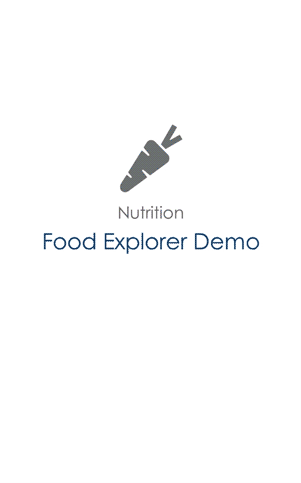 Data-Driven Health and Fitness
Biometrics: the frontier of integrated fitness, nutrition and lifestyle.
Every Step and Heart Beat
Workouts shape nutritional needs, nutrition shapes workout capabilities. Life - sleep, stress, unforeseen events - impact both – that's why every element of BodBot is built to work together, to adapt to new information and new states. Life can be unpredictable, but your fitness should be reliable. Miss a workout? We'll adjust your future workouts and dial down your calories. Go on an unplanned hike? We'll dial up your carbohydrate and calorie needs. Sleepless night? We'll adjust both your training and nutrition targets accordingly.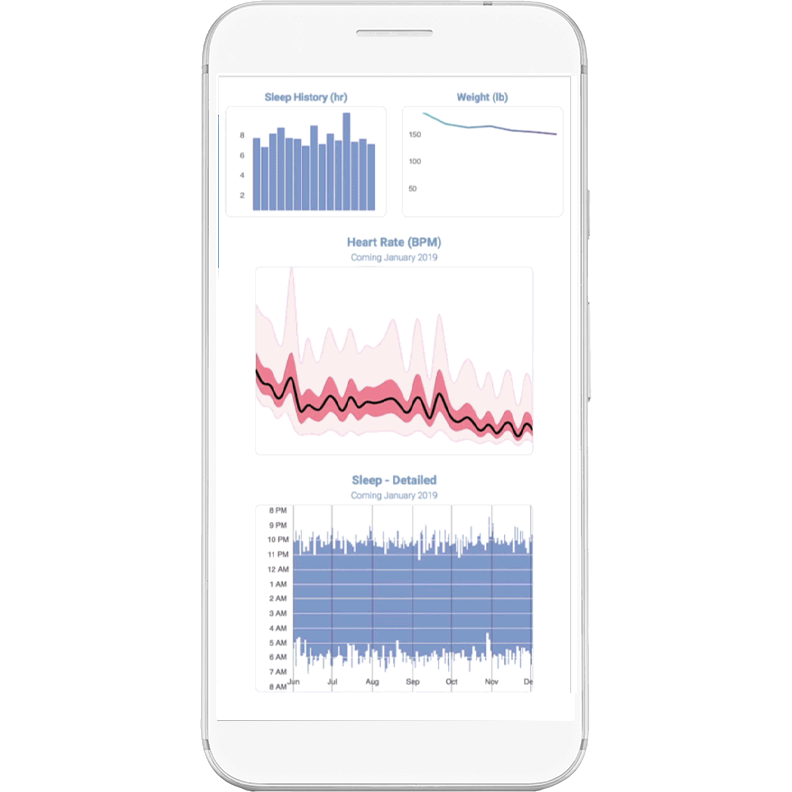 Lives and Breathes with You
We'll help you not only analyze your data, but make sense of it – integrating biometrics from your wearable devices seamlessly with and into your workouts. Your fitness is not a closed system, to the extent we can know more about key state variables like movement, sleep and heart rate, we can make your recommendations even better. Wearable devices help us do that. Just as a car monitors gas, speed, engine temperature etc. - so too do we measure and adapt to your body's state.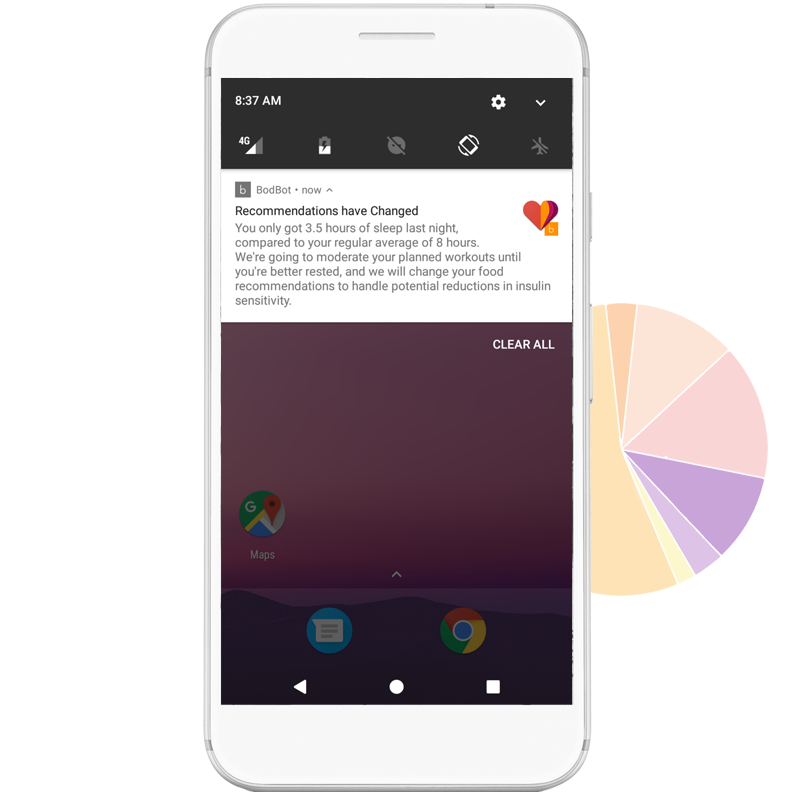 Heart Rate Cardio and Recovery
Dynamic heart-rate based cardio workouts and heart-rate-recovery-based rest intervals in HIIT and resistance training. Available on applicable versions of Apple Watch OS. Rep counting through accelerometer and gyroscope on limited editions.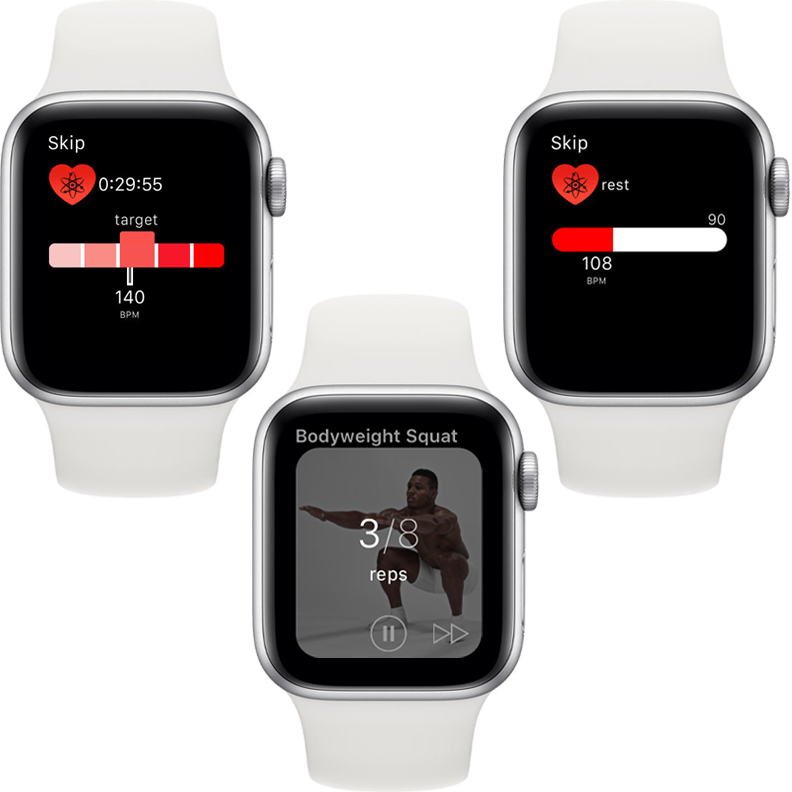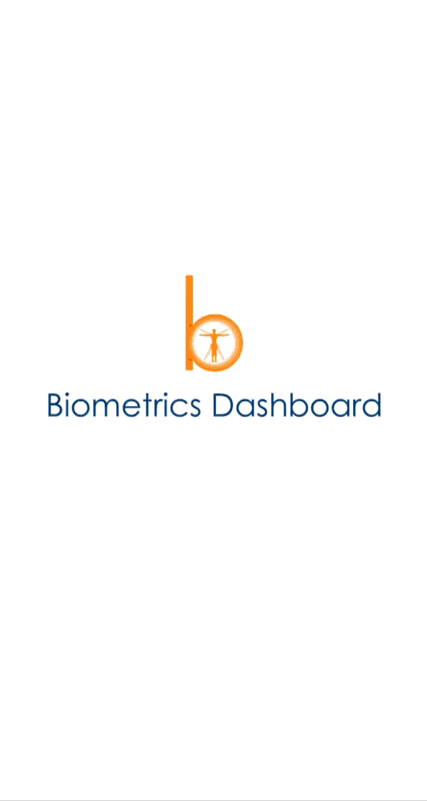 Powering over 5 million people "This website is brilliant...
I'm so glad you made this,
and I'm glad I found it."
"Love (and I mean LOVE)
your website"
"I love it."
"THIS IS GREAT!"
"THANK YOU THANK YOU THANK YOU
for creating this.
It has saved my workouts."
"your website is the perfect thing for me."
"This is amazing."
"I love this app."
"i love it"
"Ingenius.
Whoever designed this app was brilliant.
It's intuitive, sleek, and easy on the battery.
The creator of the site did a wonderful job as well.
The information is soundwith a great way to customize your workout
for any level of skill. A+ in my book, sirs or ma'am."
"This is unbelievable.
This is exactly what I was looking for
and I love the user friendliness
and simple nature."
"Love it"
"i love this program"
"this site ROCKS."
"This application is
literally a marvel"
"this is seriously the best thing ever...
I will show everyone I know this -
seriously this is EXACTLY what I needed."
"This site is awesome!
It is exactly what I have been looking for.
i would consider it genius for the guys who created it."
"THANK YOU
THANK YOU
THANK YOU"
- Ryan15
"This application tops any other workout app and not only beats them but totally blows them out of the water."
- fizzy518
"This is a
godsend."
- Brian L.
"THANK YOU!
This is what I have needed for so long. I've always been willing to work out, but have floundered with trying to plan a workout. This is perfect!!
THANK YOU!!"
- H_Blackstone
Bodbot is amazing!
Laurie Stacey
"It calibrates exactly to what my body needs. I have trouble with my knees and Bodbot not only avoids stressing them, it actually provides strengthening options. It's created new mobility in my shoulders. Bodbot is very intuitive and lets me dial in to my body's current fitness level and goals... using whatever exercise equipment I have (in my case none). I have Bodbot Plus which includes the nutrition component. I love this thing. I can't say enough good stuff about bodbot!"
The best adaptive workout app I've found
Shawn Gillespie
"This should be the number one app in every "best workout app" article. I have tried them all and none of them fit right. None of them offered this level of adaptability and customization. No matter what equipment you have. No matter how much time you have, it will adapt. Even down to adjusting based on your level of tiredness. Amazing."
Never going back to a $500 personal trainer
Adil R
"I've tried them all, this is by far the best workout app. I used to pay $500 every two months for a PT, which I no longer need to do because this app has replaced the need for one. I love how it tailors my workout programs based on so many variables such as quality of sleep, fatigue, and previous workout routine. Never going back!"
Professional Level Strength Training in the Palm of Your Hand
Seth Myerson
"Most people are not going to understand just how good this program is.
As a former nationally ranked D1 wrestler who has participated in professionally supervised strength and conditioning programs, as well as a current BJJ competitor supervising his own strength training regimen, I am extremely impressed with the product.
If you tell the application that you are experienced in the realm of training, the application is not afraid to recommend meat and potatoes, technically challenging exercises like squats and dead lifts -- often with low rep requirements (heavy). The application, through its extensive graphical questionnaire learns about your flexibility, posture, and strengths and picks up on weaknesses and imbalances, and seeks to correct them with cutting edge exercises.
I have been using the product for 2 months now, and my gains in functional strength have been startling.
My flexibility and strength in my battered shoulders has improved dramatically as well.
If you do not like this program, you aren't doing it right. Pay attention to the back end -the fit test, scheduling, and equipment available functionality. Keeping your personal data up to date is the key to receiving a customized kinesthetic science based plan that will produce great results from your training time investment.
The app even provides guidance for training time investment in the form a of a color coded slider marked at one end with efficiency and the other with effectiveness. Pick something in the "green" zone.
Fantastic Application - Exceeded my Expectations."